The World-Weirdest Volcano Exhibition
世界一変な火山展
4月20日(土)-9月23日(月祝)
April 20 (Sat.) to Sept. 23 (Mon)
知床自然センターにて
At Shiretoko Nature Center

PDF File of the Handout/チラシのPDFファイル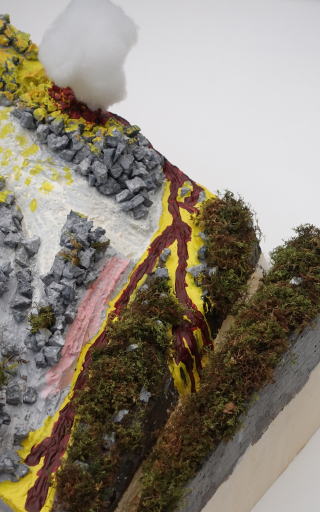 Shiretokoiozan volcano is located in the middle part of the Shiretoko Peninsula and known for its humongous amount of molten sulfur eruption.
In 1936, 116,523 tons of molten sulfur was expelled at a mountain flank crater called "Crater I," and flowed into the Kamuiwakka Creek.
In "the World-Weirdest volcano Exhibition" we will show you the feature of the world only huge sulfur eruption and its mechanism.
Farther more, how those facts were found with interesting and unique research tools will be shown. We are sure that you will enjoy it!

・What was the molten sulfur eruption like?
・Pahoehoe sulfur which was created of fluid molten sulfur flowing while it is cooled
・The sulfur lapilli which was made of molten sulfur splash at explosions
・Interesting mechanism of molten sulfur eruption
・Surprising tools for research which were used for elucidation of the mechanism of molten sulfur eruption
知床硫黄山は知床半島中央部に位置する活火山で、大量の溶融硫黄を噴出することで知られています。
1936年には中腹の1号火口(新噴火口)から赤茶色をした溶融硫黄が116,523トンも噴出し、カムイワッカ川に流れ込みました。
世界一変な火山展では、世界的に珍しい大量溶融硫黄噴火とその仕組みを紹介します。
ご期待ください。


・溶融硫黄噴火とはどのような噴火だったのか?
・流れる硫黄が固まってできたパホイホイ硫黄
・融けた硫黄が飛ばされて固化した硫黄片
・溶融硫黄噴火のおどろきのしくみ
・知床硫黄山の調査に活躍した意外な道具たち


準備のようす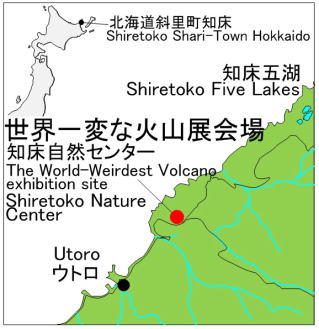 北海道斜里町ウトロ
Utoro Shari Town Hokkaido JAPAN
ウトロから車で10分
ウトロ温泉バスターミナルからバスで10分
「知床自然センター」で下車
http://center.shiretoko.or.jp
0152-24-2114
10 minutes by car from Utoro
10 minutes by bus from Utoro Onsen Bus Terminal and get off at Shiretoko Nature Center
http://center.shiretoko.or.jp
Phone: 0152-24-2114

Creating a diorama of the molten sulfur eruption crater and its proximity area
溶融硫黄を噴出した火口とその周辺のジオラマ製作編

Preparing The World-Weirdest Volcano Exhibition at Shiretoko
「世界一変な火山展」知床での準備作業