Shiretokoiozan, Volcano which erupted molten sulfur

Shiretokoiozan is one of the three strange volcanoes in the world. It eject a huge amount of molten sulfur. In the last eruption in 1936, a crater on the mountainside ejected 20 thousand tons of liquid sulfur and it flew into Kamuiwakka Creek.

I have been researching this strange volcano since the summer of 2005. In this year, 2014, I will leave my home town Kameoka KYOTO on June 30 and visit the volcano for this year's research.
I will turn on electricity at the mountain side crater to find out underground structure. I guess there are some hot water reservoir where sulfur is created little by little.
To Shiretokoiozan main page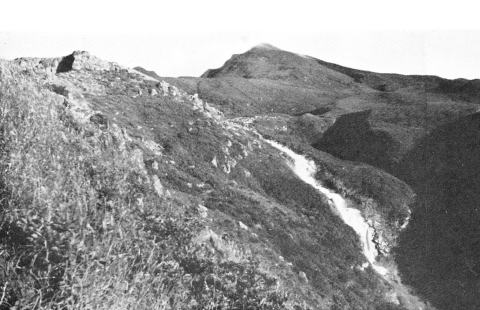 Molten sulfur flowing into Kamuiwakka Creak. The white bank in the ditch is sulfur which is already cooled to be solidified.
Photo taken by Dr. Watanabe in 1936